"performing with the highest quality and efficiency on every level"
Best-in-Class processes, products, and services requires continued commitment.
Elanders Americas' focus is on the needs and demands of our clients as well as on continuously developing our processes, products and services to achieve total quality – in other words performing with the highest quality and efficiency on every level. Focusing only on quality is just half the battle. Our continued commitment to reduce environmental impact by striving to improve processes, production methods, and products allows us to balance the needs of our employees, clients, environment, and community.
With consistent dedication to the highest impact on quality and the lowest impact on our environment we have become certified by the following industry leading organizations in their respective fields.
Quality
ISO 9001:2015


The ISO 9001:2015 standard is based on a number of quality management principles including a strong customer focus, the motivation and implication of top management, the process approach and continual improvement. The standards provide guidance and tools for companies and organizations who want to ensure that their products and services consistently meet customer's requirements, and that quality is consistently improved.  Using ISO 9001 helps ensure that customers get consistent, good-quality products and services, which in turn brings many business benefits.
G7 Master Printer Qualification
"both a definition of grayscale appearance, and a calibration method for adjusting any CMYK imaging device to simulate the G7 grayscale definition. G7 yields a visual match between different imaging systems using simple 1-dimensional curves, and enables shared appearance between different printing devices or specifications when additional color management is not available."
Sustainability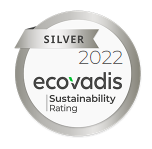 EcoVadis is the world's largest and most trusted provider of business sustainability ratings, creating a global network of more than 90,000+ rated companies.
Elanders Americas has been awarded a silver medal, ranking in the 83rd percentile, in recognition of sustainability achievement!
Environmental
ISO 14001:2015

ISO 14001 is an internationally agreed standard that sets out the requirements for an environmental management system.  It requires that an organization considers all environmental issues relevant to its operations, such as air pollution, water and sewage issues, waste management, soil contamination, climate change mitigation and adaptation, and resource use and efficiency.  ISO 14001 helps organizations improve their environmental performance through more efficient use of resources and reduction of waste, gaining a competitive advantage and the trust of stakeholders.
Forest Stewardship Council ® (FSC ®)
"The Forest Stewardship Council is an independent, non-profit organization that protects forests for future generations. FSC members adhere to environmentally sound, socially beneficial and economically prosperous management of the world's forests."
Sustainable Forestry Initiative (SFI ®)
"SFI Inc. is an independent, nonprofit organization dedicated to promoting sustainable forest management. They work with conservation groups, local communities, resource professionals, landowners, and countless other organizations and individuals who share our passion for responsible forest management."
Government
International Traffic in Arms Regulations (ITAR)
U.S. Government requires all companies involved in the manufacture, sale or distribution of goods or services covered under the United States Munitions List (USML) or a component supplier to goods covered under USML, the contractual stipulation or requirement of being  "ITAR compliant" means that the company must be registered with the State Department's DDTC (Directorate of Defense Trade Control), and the company must understand and abide by the ITAR as it applies to their USML linked goods or services. The company must register and keep their registration current, thereby certifying that they operate in accordance with the US Department of State pursuant to the Arms Export Control Act (AECA) and the International Traffic in Arms Regulations (ITAR).
FDA
The Food and Drug Administration is a government agency responsible for the safety of food, dietary supplements, human drugs, vaccines, blood products and other biologicals, medical devices, radiation-emitting electronics, cosmetics, veterinarian products and tobacco products being sold or manufactured in the United States. The FDA also inspects and enforces regulations related to these industries. Organizations that manufacture, re-pack or re-label products in the aforementioned industries must register with the FDA
Our Atlanta, Georgia fulfillment center holds two separate registrations:
* Food Distribution
* Medical Device Repackaging & Distribution
Awards

Through our environmental and quality certifications, as well as our dedication to our employees, Elanders is consistently recognized within our industry every year. Recent acknowledgments include:
 "Benny" award, the highest honor in the Premier Print Awards International Print Competition, for our entry Cobb Galleria Centre, Cobb Energy Performing Arts Centre and ArtsBridge Foundation's 2017 Annual Report
Gold Award in the Digital Printing, Books category for the Huge Coffee book (Gold Ink Awards)
5 "Best of category" and 15 "Award of Excellence" from the Print Excellence Competition (Printing & Imaging Association of Georgia)
Top Gold Award for Best Catalog for the Watchtime Longines Special (Print Excellence Awards)
Award of Recognition for the Watchtime Longines Special (Print Industries of America)
Bronze Medal for the Regina Andrew Catalog (Gold Ink Awards)
Pewter Award for the Georgia Tech Welcome Folder (Gold Ink Awards)
Best Workplace award recipient for 19 years and Safety Shield designation both years it has been available (Printing Industries of America)
Awarded the prestigious "Benny" for our Octagon Insert for COX Enterprises