Choosing the best publishing supply chain model
offset or digital?
Traditional Supply Chain Model
The traditional publishing supply chain model starts with a large initial print run on offset presses for the lowest per book price at the best quality. However, the cost of a single book is more than unit cost. Each of the remaining steps will increase that price and eat away at the books' profitability.
| | |
| --- | --- |
| ·         Initial Ship and Inventory Charges | ·         Warehouse Storage Costs |
| ·         Pick/Pack Fees | ·         Re-Shipping to Retail Stores |
| ·         Remainder Management | ·         Administration Overhead |
| ·         Scrapping Costs | · |
Digital Supply Chain Model
Digital print technology offers another supply chain model that, while having a bit higher production cost, eliminates as much as 90% of the remaining steps and associated costs. Plus digital processes allow you to print short-runs to retails stores or one-copy printed on-demand to consumers which means your remaining step after production is simply shipping.
·         Ship to Retail Store or Consumer
The following diagram compares the steps of a traditional supply chain to a digital print solution.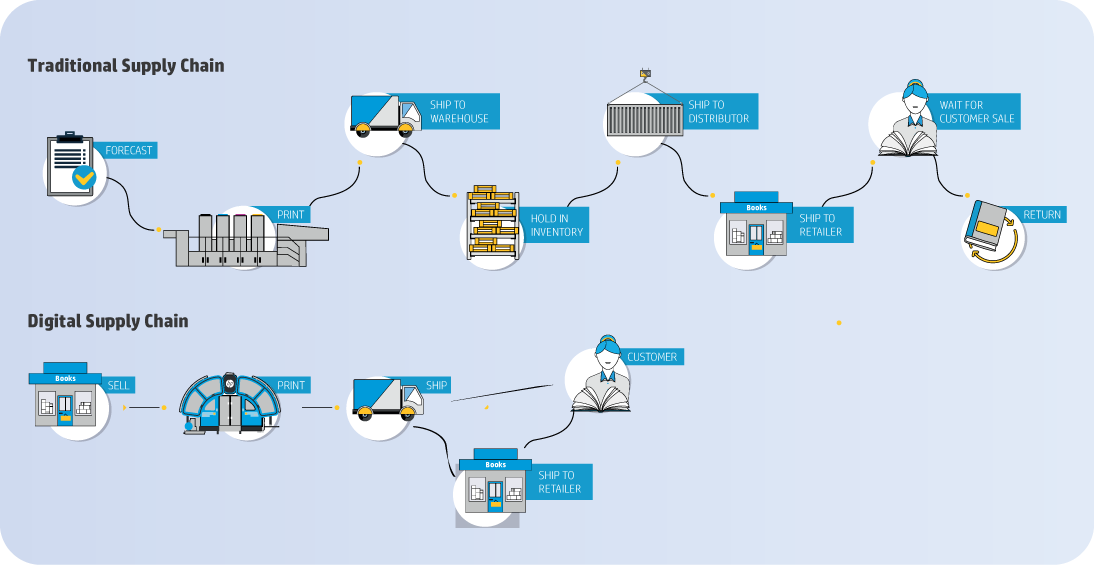 With digital production you gain time for final edits, get books to the market faster, keep the status of titles as "Always Available", and reduce your risk. Plus, in a digital model you print to order instead of print to projection so if there is no sale, the costs are $0.
Both supply chain models have their place in publishing. Offset is still the best choice for high volume frontlist and hardback books. Digital fits perfectly and is widely accepted for everything else.
Contact our expert today to find out where a digital model would be most beneficial for your titles
Julie Browne
Senior Account Executive
404-754-1337
jbrowne@elandersamericas.com